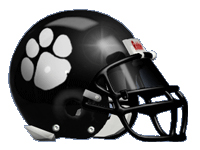 Sport and Medical Science Academy/University High




This page was last updated: October 8, 2011
Site established Sept. 1, 2011

Copyright 2011, Collinsville Publishing Company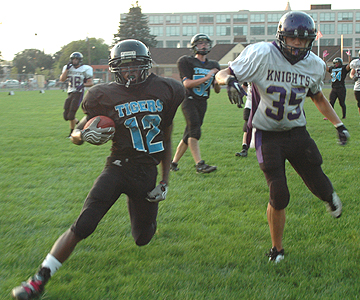 Ellington asserts themselves, pull away from T'Hawks

Knights force five turnovers in 2nd half

Rashod Cauley (12) gets into the end zone with the first points of the season on a 13-yard TD pass from Wilfredo Alicea.

By GERRY deSIMAS, JR.

Hartford Football Online

HARTFORD, Sept. 26 – For two quarters, the Sport Medicine Science Academy/University High football team was able to hang with the powerful, veteran Ellington/Somers squad and its 27 seniors.

The visiting Purple Knights, who scored 56 points a week earlier in a victory over Canton, had just 13 points and had completed just one pass for three yards.

The Tigerhawks, who had a bye in week one and had their final two scrimmages postponed due to flooding, trailed by six points.

But in the second half, little went right for the host Tigerhawks. Ellington blocked a punt and ran it in for a touchdown. They also recovered a SMSA/University fumble and intercepted four passes as they rolled to a 51-12 victory Monday evening at Dillon Stadium. It was the debut contest for the Tigerhawks in the Pequot Conference's Uncas Division.

"They got it rolling and we didn't respond," SMSA/University coach Graham Martin said. "I give (Ellington) a lot of credit. They came out full of vinegar."

In the first half, Ellington scored on its fourth offensive play on a 56-yard run from Bryan Rider, who ran for a game-high 106 yards on seven carries. But the Tigerhawks remained calm.

They advanced to the Knight's 31-yard line on its second drive and cut the Knights lead to 7-6 when Rashod Cauley pulled in a 13-yard TD pass from QB Wilfredo Alicea with 11:10 left in the second quarter.

Ellington extended its lead with an eight-play, 75-yard drive with Mitch DiRista carrying the ball five times for 30 yards. Bryan Rider capped off the drive with a five-yard run. The extra point was wide and the Purple Knights led by just seven at halftime, 13-7.

SMSA/University got nothing going in the second half. On its first series, Ellington put plenty of pressure on quarterback Wilfredo Alicea and Jake Sneider chased him down an 18-yard sack on the Tigerhawk 18-yard line.

On the punt, Ellington's Jason Moustafa got the block and Neal Janiga scooped it up on the 12-yard line and ran it for the score. The Knights were on their way. In the second half, Ellington forced six turnovers including a fumble and four interceptions.

"I wouldn't say we took them for granted," Ellington coach Keith Tautkus said. "We didn't know what they would be. We had no film on them. They didn't play last week and they didn't play their final two scrimmages.

"Once we made some adjustments in the second, it was a different ballgame. We started putting more pressure on them and seeing what their tendencies were, we went after them a bit," Tautkus said.

Martin was mystified at his team's performance in the second half.

"We went into halftime and I thought they would be excited and they weren't," he said. "We were down for whatever reason."

The Tigerhawks did score a second touchdown late in the fourth quarter when Trenton Shelton zipped around the end for a 23-yard score.

For SMSA/University, Alicea completed 11-of-22 passes for 157 yards, a touchdown and three interceptions. Rashod Cauley caught seven passes for 98 yards and a touchdown. Kayron Macon led the Tigerhawks on the ground with 71 yards on 10 carries.

For Ellington, Bryan Rider ran for a game-high 106 yards and two touchdowns on seven carries. DiRista ran for 96 yards and a touchdown. Four players each had an interception and the Knights had two sacks.

Martin sees the potential for the Tigerhawks to be a pretty good team. They face four-time defending Pequot Uncas champion Avon on Saturday on the road at 3 p.m.

"We have to be mentally prepared to take some shots and give shots and play," he said. "Right now, I would say we have four or five guys on either side of the ball that understand how to hit and how to take them."

With nine games on the schedule remaining, there is time to grow and learn.

GRID DUST: The Sept. 26 date was the latest opener in the team's 13-year history. … The Tigerhawks are now 1-11-1 on opening day with its lone win coming over Rocky Hill, 24-7 in 2004. … The 51 points allowed was the most allowed on opening day.

Ellington/Somers 51, SMSA/Univ. 12

At Hartford

Ellington (2-0)        7  6  19  19 -- 51

SMSA/Univ. (0-1)   0  6    0    6  - 12

First quarter

E:Bryan Rider 56 run (Mitch DiResta kick), 9:43

Second quarter

S: Rashod Cauley 13 pass from Wilfredo Alicea (pass fails), 11:10

E: Rider 8 run (kick fails), 2:33

Third quarter

E: Neal Janiga 12 blocked punt return (run fails), 9:31

E: Janiga 48 run (Mitch Cobb kick), 3:38

E: DiResta 23 run (kick fails), 0:55

Fourth quarter

E: Jake Schneider 1 run (Cobb kick), 10:04

E: Mike Casciano 6 run (kick fails), 5:42

S: Trenton Shelton 23 run (run fails), 2:46

E: Christian Schneider 67 pass from Garrett Boulanger (kick wide), 0:46

Individual statistics

RUSHING: SMSA -- Kayron Macon 10-71, Trenton Sheldon 5-30, Ezequiel Ortiz 2-11, Saviel Lopez 2-2, Wilfredo Alicea 4-minus 26; Ellington -- Garrett Boulanger 1-0, Joe Lesile 3-8, Mike Casciano 1-6, Christian Schneider 8-71, Neal Janiga 2-58, Jake Schneider 3-6, Bryan Rider 7-106, Mitch DiRista 16-96, Jason Moustafa 2-36

PASSING: SMSA -- Wilfredo Alicea 11-22-3, 157; Kiante Macon 0-1-1; Ellington -- Bryan Rider 1-4-1, 3; Garrett Boulanger 1-1-0, 67

RECEIVING: SMSA -- Rashod Cauley 7-98, Kiante Macon 2-18, Kayron Macon 1-16, Trenton Sheldon 1-25; Ellington -- DiRista 1-3, Christian Schneider 1-67

INTERCEPTIONS: Ellington -- Mike Casciano, Jason Moustafa, Neal Janiga, Joe Lesile; SMSA -- Rashod Cauley; SACKS: Jake Schneider (E) 1-18, Sean Coverdill (E) 1-12

RETURNS: Punts -- Rashod Cauley (S) 1-25; Kickoffs -- Joe Lesile (E) 1-15, Jason Moustafa (E) 2-34; Shawn Wright (S) 2-10, Caleb Martin (S) 2-10, Rashod Cauley 1-19, Saviel Lopez (S) 1-0, Ezequiel Ortiz (S) 1-0, Kiante Macon (S) 1-24